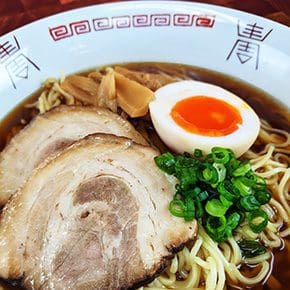 Ajitsuke Tamago (marinated egg) is made of soft-boiled egg, full of umami filled yolk and egg white. Since it's great with any kind of ramen, we decided to make our own recipe to add to a variety of our different ramen recipes! Try this quick and easy recipe to top all our fresh ramen noodles with this flavorful egg.
Yields
2 servings
Cook Time
10 mins
Print
Ingredients
2

Eggs 

1

tsp

Salt

50

ml

Mentsuyu (Noodle Sauce, "Hontsuyu") 

¼

cup

Water
Instructions
Pour water to the pot, enough to cover the eggs. Add salt and bring to a boil. Once the water starts to boil, gently add place the eggs in the pot. Boil the eggs for 8 minutes. As soon as the time is up, rinse and cool down the eggs with cold water. Peel the shell off the eggs. 

Add 50ml Mentsuyu and ¼ cup water in a Ziploc bag. Add in the boiled eggs and seal the bag. Make sure that the bag is air-tight. Let the eggs marinate 1 to couple hours (overnight is recommended for a stronger flavor ). 
Recipe Reviews
There are no reviews yet. Be the first one to write one.