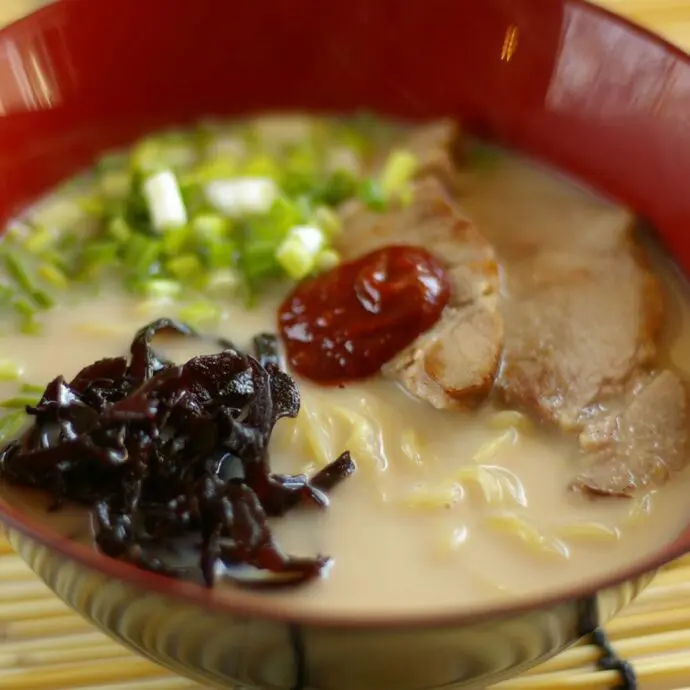 Kikurage, wood ear mushroom, is a common topping on Japanese ramen. This is because it adds a chewy texture and absorbs the flavors of the ramen noodles and of the ramen broth. It is called wood ear mushroom because its shape resembles that of an ear. Aside from the ramen flavor enhancement it provides, kikurage is also known for its rich nutritional value, containing a lot of fiber and iron.
Preparing kikurage is easy! All that is needed is to soak the dried mushrooms in cold water for a couple of hours or even overnight. This helps soften and rehydrate the kikurage into a more gelatinous texture, which is what helps absorb flavor.
In this recipe, we marinated kikurage to create Ajitsuke Kikurage. It pairs perfectly with our Signature Tonkotsu Ramen!
Yields
2 servings
Cook Time
45 mins
Print
Ingredients
10

g

Kikurage (Wood Ear Mushrooms) 

1

cup

Water

for soaking

1

tsp

Soy Sauce

1

tsp

Mirin

½

tsp

Sugar 

½

cup

Water

for cooking 
Instructions
Soak Kikurage in 1 cup water for about 30 minutes until soft. Rinse under running water and cut off any hard part. Slice into thin strips.

In a small pot, pour ½ cup water and add Soy Sauce, Mirin, Sugar. Add the Kikurage and bring to boil. Turn down heat and simmer for about 15 minutes until liquid evaporates completely. 
Recipe Reviews
There are no reviews yet. Be the first one to write one.