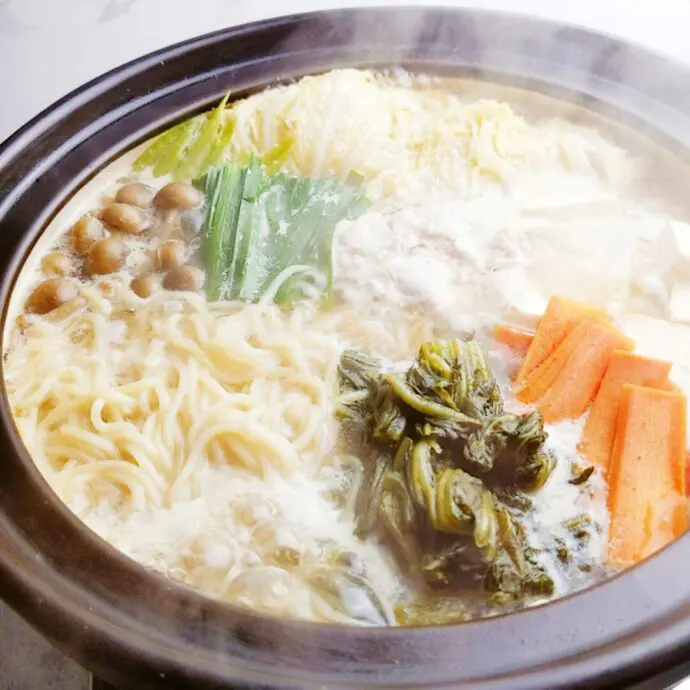 What are some ways to enjoy our Tonkotsu Soup Base? Besides Ramen, Hotpots are always great to have on any occasion! Just mix the soup base with water and cook together meats, vegetables, and noodles for a comforting meal! In this recipe, we added picked takana (Mustard leaves) and fresh ramen noodles for a Hakata-style Tonkotsu Hotpot.
Yields
4 servings
Cook Time
20 mins
Print
Ingredients
Soup
3

packets

Tonkotsu Soup Base

4

cups

Water 
Toppings
1

lb

Thin Sliced Pork

½

Tofu

1

bag

Ramen Noodles (or Udon)

¼

Nappa Cabbage (Chinese Cabbage)

4

Green Onions

1

pack

Shimeji Mushrooms

1

bunch

Chives

⅓

Carrot

Pickled Takana (Mustard Leaves)

by preference 
Instructions
Prepare the soup by mixing the soup base with water.

Cut the meats, tofu, and nappa cabbage to bite sized pieces. Cut the stem off the shimeji mushroom and loosen. Chop the pickled takana and set it aside. Slice the chives and green onions to 2-inch lengths. Thinly slice the carrots and set aside.

In a ceramic pot, add in the soup and ingredients from Step 2. Cover with lid and turn on the heat. Once the soup boils, open the lid and allow the ingredients to cook. If you prefer not to cook the ingredients altogether, you can also cook them in order (meats to vegetables). Once the ingredients are cooked, it's ready to eat! Add your choice of noodles in the end to finish!
Recipe Reviews
There are no reviews yet. Be the first one to write one.