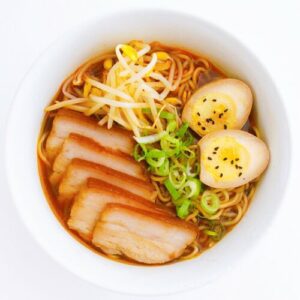 Bean sprouts are commonly used as miso ramen toppings, adding a crunchy delight to your bowl of ramen. With is quick and easy recipe, all you have to do is microwave some bean sprouts to steam them and add some condiments for a light, but textured topping to our miso ramen noodles!
Yields
1 serving
Cook Time
10 mins
Print
Ingredients
50

g

Bean Sprouts 

Salt

by preference

Sesame Oil

by preference
Instructions
Rinse bean sprouts and place in a microwave safe bowl. Sprinkle pinch of salt and dash of sesame oil. Cover the bowl with a plastic wrap and microwave for 1 minute. 
Recipe Reviews
There are no reviews yet. Be the first one to write one.