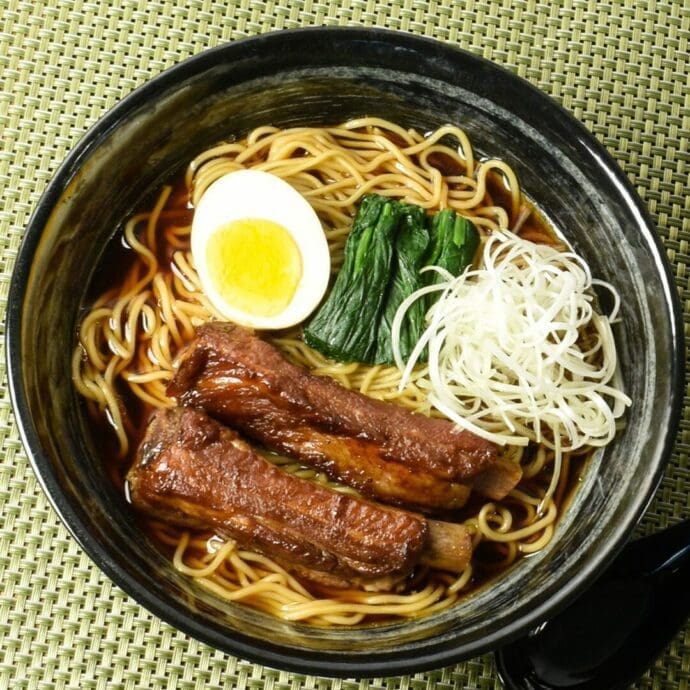 Although a great meal on its own, believe it or not, spare ribs is actually a great topping for ramen! For this recipe, we used a pressure cooker to make cooking easier. Try the finished topping with our Signature Shoyu Ramen or with any of our other fresh ramen noodles!
Yields
3 servings
Cook Time
30 mins
Print
Ingredients
1

rack

Pork Spare Ribs

separated 

1

clove

Garlic

thinly sliced 

2

Scallions

cut in half

1

small piece

Ginger

peeled and thinly sliced 

1

tbsp

Vegetable Oil

1

cup

Water

for spare ribs 

3

tbsp

Soy Sauce

2

tbsp

Sake

2

tbsp

Mirin

2

tbsp

Honey
Instructions
Heat vegetable oil and garlic in frying pan. Add one or multiple spare ribs at a time and let it brown.

In a pressure cooker pot, add water, soy sauce, sake, mirin, honey, ginger, scallion, and ribs. Cover pot and cook over high heat until the pressure is built, then lower to medium heat and cook for 10 minutes. 

Turn off heat and let the pot release pressure before removing lid. Turn on heat again and let it simmer until there is no more liquid. Your spare ribs are completed!   
Recipe Reviews
There are no reviews yet. Be the first one to write one.