Chinese-Style Tori Dango Hotpot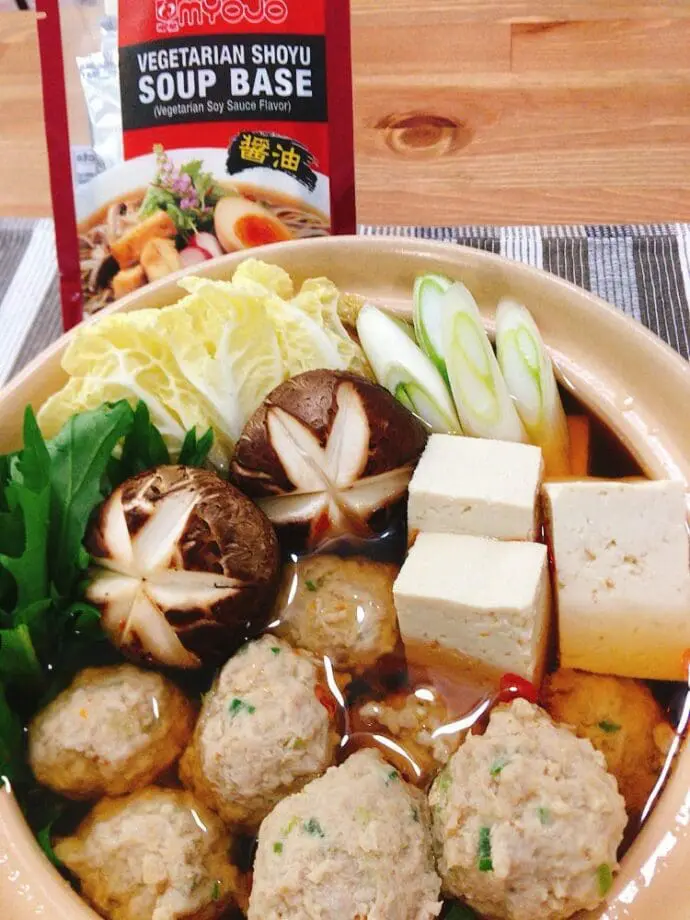 Feeling cold? Hotpot is a great way to warm your soul! Enjoy tasty tori dango (minced chicken balls) along with our Vegetarian Shoyu Soup Base! The savory and juicy dango complements the light taste of the shoyu soup base. Enjoy the soup with plenty of meat and vegetables!
Yields
2 servings
Cook Time
15 mins
Print
Ingredients
Soup
1

packet

Vegetarian Shoyu Soup Base

2 1/4

cups

Water
Contents
1/2

lb

Ground Chicken

1

bundle

Green Onion (Scallion)

1

tsp

Ginger

grated

1

Egg

1/2

tbsp

Soy Sauce

1/2

tbsp

Sake

1

tsp

Sesame Oil

3

leaves

Nappa (Chinese Cabbage)

1/2

pack

Tofu

2

Shiitake Mudhrooms

1/2

bunch

Mizuna

La-Yu (Chili Oil)

by preference
Instructions
Diagonally slice the white part of the green onion to an angled bite sizes. The white part will be used for the hotpot. Chop the green part of the green onion. The green parts will be used to make tori dango.

Cut the nappa, mizuna, and tofu to bite sized pieces, set aside. Remove the stem from the mushrooms and set aside. 

In a small bowl, mix ground Chicken, stirred eggs, soy sauce, sake, and sesame oil. 

Prepare the soup by pouring the soup base and water to the clay pot (pot). Turn on the heat and bring to a boil. Once the soup boils, add in the batch from Step 3, using a spoon. Form a ball shape using the spoon before putting it in the soup. 

Once the tori dango is cooked and ready, add in the vegetables. Close with a lid and simmer until the vegetables are also cooked. Remove the lid and swirl in chili oil. The hotpot is ready! 
Recipe Reviews
There are no reviews yet. Be the first one to write one.