Shrimp Fried Rice with Vegetarian Shoyu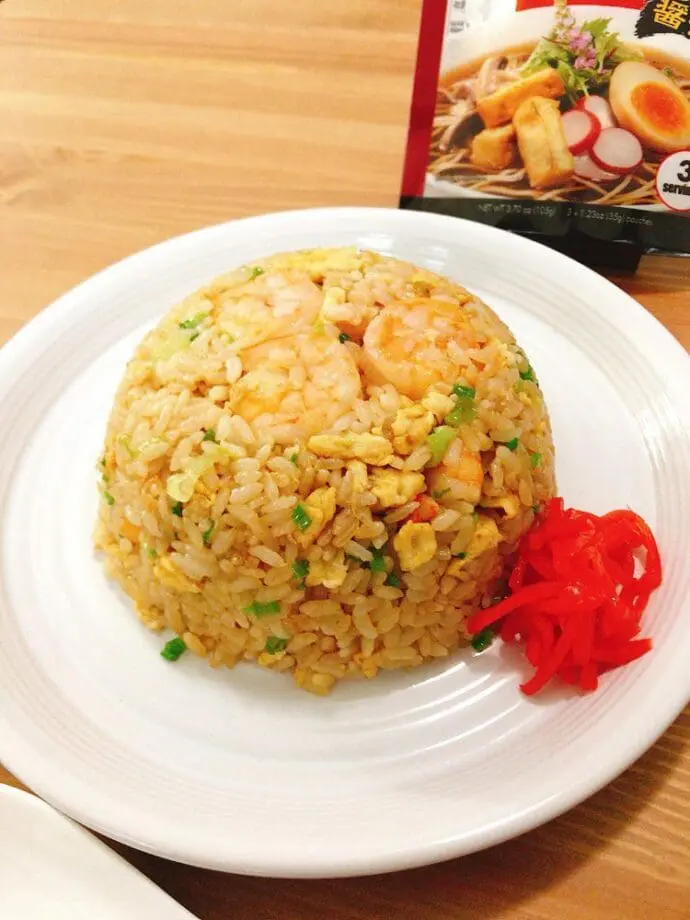 Our Vegetarian Shoyu Soup Base is so versatile, it's not just for soups and ramen! The light but flavorful taste of the vegetarian soy sauce is also recommended as a sauce. Just simply add the soup base to the fried rice and you'll have yourself a savory flavored fried rice. Add some shrimps for protein and enjoy!
Yields
2 servings
Cook Time
10 mins
Print
Ingredients
1

packet

Vegetarian Shoyu Soup Base

8

Frozen Shrimps (Peeled and de-veined)

1

Egg

3

Green Onions

2 ½

cup

Cooked Rice

1

tbsp

Sesame Oil

Salt and Pepper

by preference

Red Ginger

by preference
Instructions
Chop the green onions, defrost the shrimps, and thoroughly beat the egg in a small bowl. Setaside.

Heat sesame oil in a frying pan and pour in the egg from Step 1. Season the eggs with salt and pepper and quickly stir into crumbles.

Set aside the egg crumbles to the corner of the pan and add in the shrimps to heat.

Add the cooked rice and stir-fry. Swirl in the vegetarian shoyu soup base to season and stir-fry until the rice is mixed thoroughly. To finish, add in the green onions. Once the rice is thoroughly cooked, remove from heat. (Season with salt and pepper to your liking if preferred)

Place the rice in a bowl and top with red ginger. Enjoy!
Recipe Reviews
I made with the reciept and its amazing~
taste as good as hell, I love fried rice and this makes it even better an extra good taste~~try it!