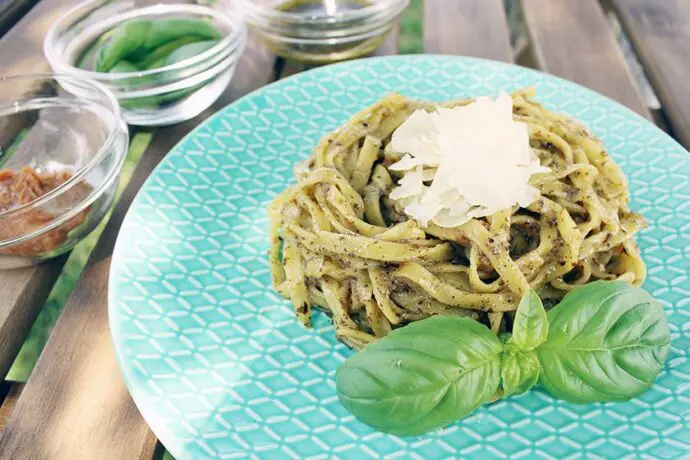 While our Okinawa Soba is tasty on its own, it is also easy to arrange with! Who knew pesto sauce would be great with Okinawa soba? Add Miso to pesto for a gentle fragrance and mild Asian fusion. The thick and wide texture of the fresh ramen noodles and rich taste of pesto closely resembles a pesto pasta! Try this out for a unique but tasty experience!
Yields
1 serving
Cook Time
15 mins
Print
Ingredients
Sauce
1

tbsp

Miso (Soybean Paste)

3

tbsp

Genovese
Toppings
Grated Parmesan Cheese

by preference

Parsley

by preference
Instructions
In a small bowl, mix the pesto sauce and miso.

Follow the package instructions to cook the Okinawa soba noodles. Once the noodles are cooked, drain well.

In a large bowl, toss together the noodles and pesto sauce from Step 1.

Place the noodles from Step 3 on a plate and top with grated parmesan cheese and parsley. Enjoy!
Recipe Reviews
There are no reviews yet. Be the first one to write one.