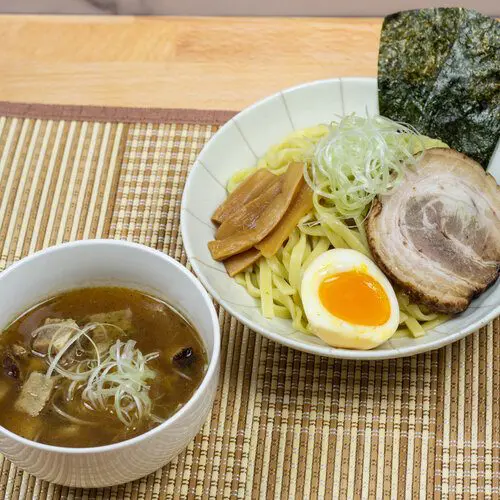 Tsukemen is a great alternative to ramen if you want to change things up a bit! Tsukemen translates to "Dipping Noodle," and you dip your ramen noodle in a bowl of flavored hot broth! For this recipe we used our Okinawa Soba and arranged it to Tsukemen. With just half the soup base and some sesame oil, you have yourself a tasty bowl of dipping broth. Let's get started!  
Yields
1 serving
Cook Time
20 mins
Print
Ingredients
Soup
½

packet

Okinawa Soup Base 

1

cup

Hot Water

½

tbsp

Sesame Oil 

1

piece

Chashu 

Scallions
Toppings
1

piece

Homemade Chashu (braised pork belly)

you can follow our recipe 

Menma or Braised Bamboo Shoots

you can follow our recipe

½

Ajitsuke Egg (marinated boiled egg)

you can follow our recipe

½

Scallion

julienned, soaked in water, and drained 

2

pieces

Dry Seaweed 
Instructions
Cut one piece of chashu into cubes and set aside. The other piece will be used as a topping.  

Take half of the soup seasoning and add 1 cup of hot water. Then add ½ tbsp of sesame oil. Add cubed chashu and top with julienned scallion and you've got yourself some dipping broth!  

Prepare noodles by following instructions on packaging. Once the noodles are done, let it drain. 

Place noodles in serving bowl and top it with chashu, menma, egg, and scallion.  

Add nori on the side and you're all set!  

* Normally for ramen, we would use 1 ¼ cups of hot water to make the soup but for tsukemen we want a thicker broth.  
Recipe Reviews
There are no reviews yet. Be the first one to write one.