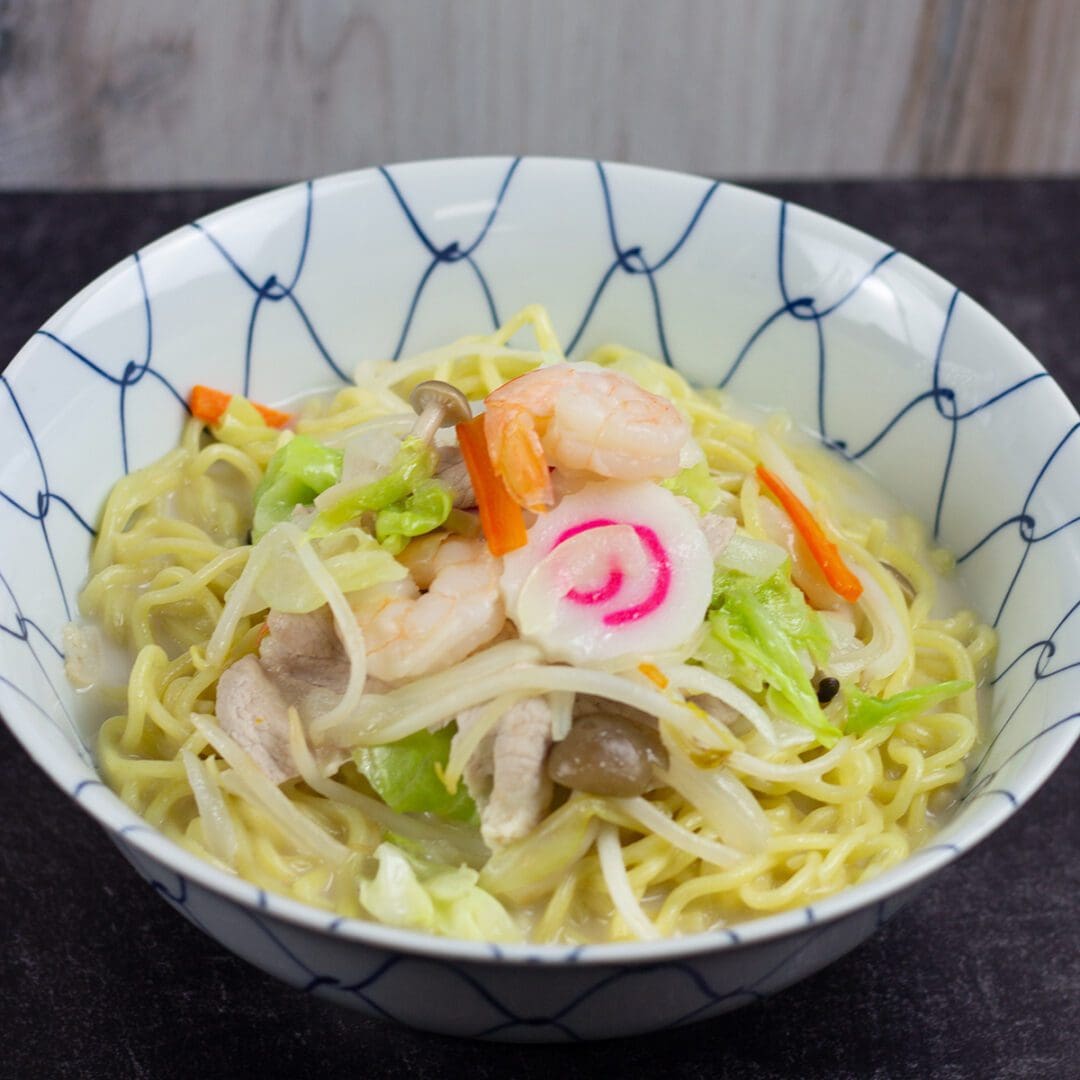 Nagasaki Champon is a regional dish of Nagasaki, Japan. Unlike typical Ramen, the noodles are traditionally cooked in the broth along with seafood and vegetables! The signature thick noodles of Nagasaki Champon are a great way to slurp up the delicious broth along with the delectable variety of colorful ingredients. For this recipe, we used our Nagasaki Champon. It's absolutely delicious and heartwarming!  
Yields
2 servings
Cook Time
20 mins
Print
Ingredients
Noodles
2

servings

Nagasaki Champon
Soup
2

packets

Nagasaki Champon Soup Base

2 ½

cups

Hot Water (1 ¼ cups per serving)
Toppings
150

g

Pork

thinly sliced and cut to bite-sizes

6-8

Shrimp

¼

Cabbage

cut to bite-sizes

½

Onion

sliced to about 3mm

½

Carrot

chopped into 1cm-thick pieces

½

pack

Bean Sprouts

washed

½

Shimeji Mushrooms (or 2 Shiitake Mushrooms stem removed and thinly sliced)

roots cut off and separated

2

Wood Ear Mushrooms

rehydrated in water for about 15 min, cut off roots, and thinly slice

⅓

Kamaboko or Naruto (Fish Cake)

sliced to about 2mm

1

tsp

Vegetable Oil

*Snow Peas and Squid are also great ingredients you can add!*
Instructions
Prepare the noodles by following the instructions on the packaging.  

While the noodles are boiling, in a separate wok add vegetable oil and thoroughly cook pork. Add cabbage, onion, and carrots and stir fry. Once the carrots are cooked through, add shimeji and wood ear mushrooms, and bean sprouts.  

Add 2 ½ cups (1 ¼ x 2) of water (prepared for the soup) and let it come to a boil, then add 2 soup seasoning packets. Lastly toss in shrimp and kamaboko and once they're cooked the soup is ready!  

Once the noodles are ready, drain and put in serving bowl.  

Cover noodles with a generous amount of soup.