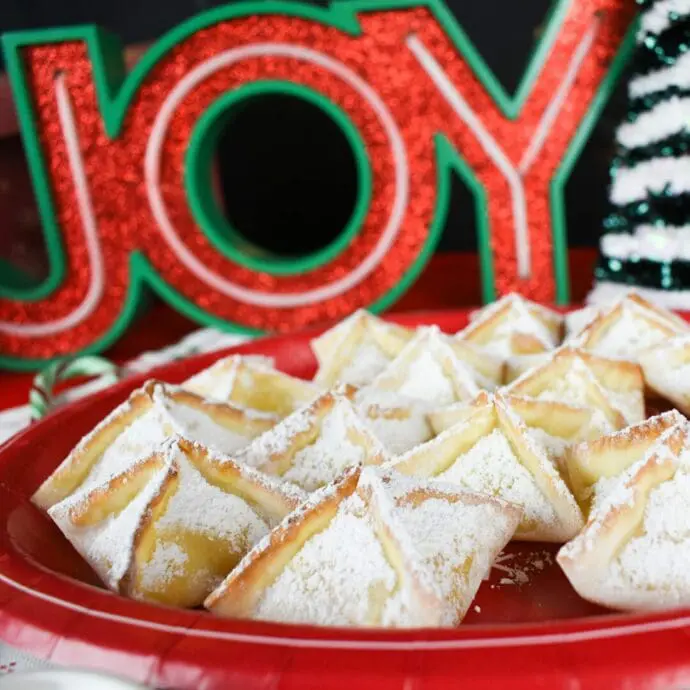 It's common for many of us to end up with leftover wonton wrappers. If you are craving something sweet but also healthy (in other words, not junky), try this recipe! Turn our Wonton Wrapper into Wonton Apple Pie Bites! The filling is a sweet apple pie filling, with a hint of cinnamon. Using the toaster oven is a healthy way to bake the bites. Enjoy! 
Yields
1 serving
Cook Time
10 mins
Print
Ingredients
Filling
3

Apples

30

g

Sugar

½

tsp

Cinnamon Powder

1

tbsp

All Purpose Flour

1

tbsp

Lemon Juice

2

tbsp

Butter

1

Egg

Salt

by preference

Powdered Sugar
Instructions
Crack open the egg in a small bowl and beat well. 

Peel the skin off the apples and remove the stem. Cut the apple into ⅛ and cut to pieces, about 3 mm. 

Place the apples in a bowl and add in sugar, cinnamon, salt, flour, and lemon juice. Mix well and let it rest. 

Melt the butter in a frying pan and pour in the apples from Step 3. Stir and cook for about 5 minutes in medium heat, making sure that the apples do not get burnt. Remove the pan from heat and let it cool.  

Spread the wonton wrapper and pour in a small amount of the filling from Step 4. Brush on the beaten egg to all four corners and fold into a pyramid. Make sure that the wrapper is properly sealed. 

Place the pyramid shape wontons onto a baking sheet or aluminum foil. Bake for 10 minutes in the toaster oven. Remove the wonton from the oven and sprinkle on powdered sugar to finish. Enjoy! 
Recipe Reviews
There are no reviews yet. Be the first one to write one.