Beet-Noodles Salad with Balsamic Dressing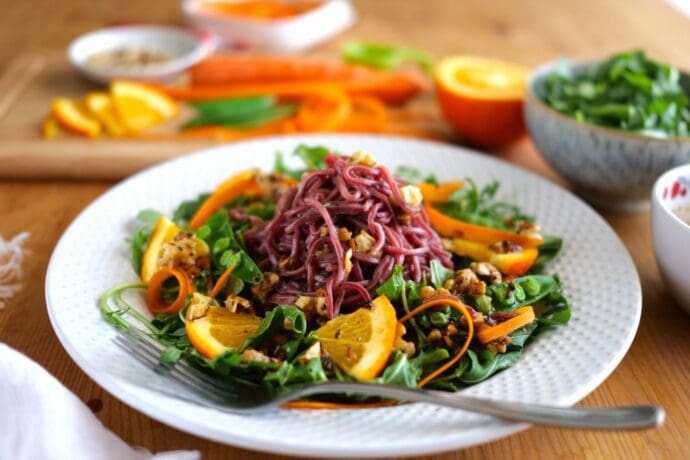 You'll be surprised to see how well Beets Noodles, orange, and balsamic vinegar all go together! If you're looking for a healthy but flavorful recipe, this is it. We used extra virgin olive oil and tamari soy sauce. If not, you can use ordinary olive oil and soy sauce. Beet Noodles are very tasty in ramen soup for sure. How about trying another way for some change. 
Yields
1 serving
Cook Time
15 mins
Print
Ingredients
Noodle
1

serving

Beets Noodles 

4

cups

Hot Water
Toppings
1

cup

Arugula  

1

Carrot

peeled and sliced into strips 

1

slice

Orange

cut into bite sized pieces 

5

Snow Peas

boiled

¼

cup

Walnuts

coarsely chopped

1

clove

Garlic

coarsely chopped 
Dressing
1

tbsp

Extra Virgin Olive Oil 

1

tbsp

Orange Juice

½

tbsp

Tamari Soy Sauce

½

tbsp

Balsamic Vinegar

½

tsp

Dried Oregano

¼

tsp

Black Pepper

Pinch of Salt

to adjust
Instructions
Heat a small non-stick frying pan over medium heat. Add the walnuts and garlic. Turn down the heat and roast until golden by shaking the frying pan. (Be careful not to burn. Garlic is easy to burn.) Transfer to a plate and set aside. 

In a medium bowl, add the ingredients for dressing and mix well. Set aside. 

Mean while, boil 4 cups of water in a medium pot. When it's boiling hot, add the beets noodles. Cook for 1 and 15 to 30 minutes by separating the noodles occasionally. Drain and wash the noodles under running water to wash off the excess starch. Drain well.  

Transfer the noodles, and the roasted walnuts and garlic into the bowl. Toss to dress. 

Place the noodles in the center of the serving plate. 

Add the arugula, carrot, orange and the snow peas into the bowl and toss to dress with the remaining dressing. 

Place the salad around the noodles. 
Recipe Reviews
There are no reviews yet. Be the first one to write one.