Myojo-Style Beef Noodle Soup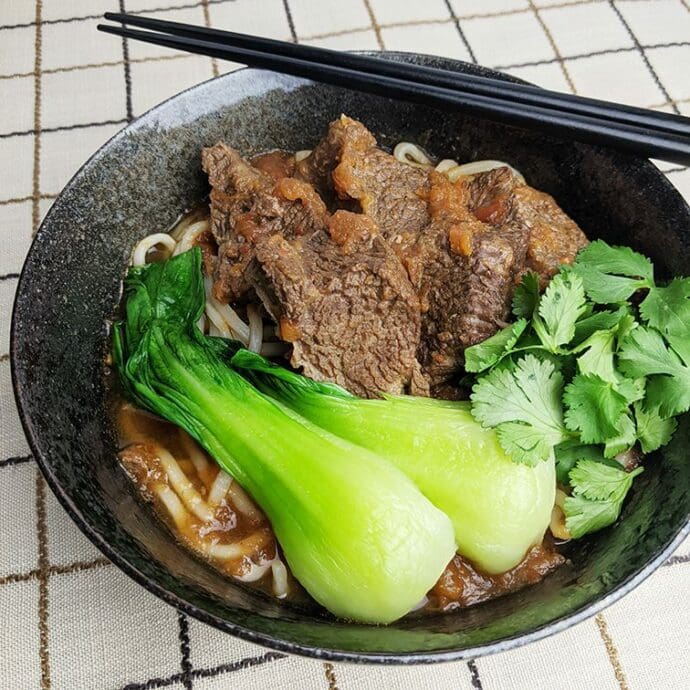 Beef Noodle Soup is a noodle soup made of stewed or braised beef, beef broth, vegetables, and typically hand pulled noodle. It is widely popular in China and Taiwan, and the color of the broth and meat depends on the region. While this recipe uses our Fresh Udon, the thick udon noodles are close to the hand pulled noodles, also known as Lamian. The fragrant aroma of star anise, slightly spicy soup, and the tender beef will keep you slurping! 
Yields
2 servings
Cook Time
60 mins
Print
Ingredients
Soup
4

cups

Water

2

Tomatoes

1

thumb

Ginger

1

Tokyo Negi (Long Green Onion)

2

pieces

Star Anises

1

clove

Garlic

1

tbsp

Doubanjiang (Broad Bean Paste)

1

tbsp

Soy Sauce

Salt and Pepper

by preference
Toppings
300

g

Beef (chunk or for stew)

1

Bok Choy

Cilantro

by preference
Instructions
Boil the bok choy in salt water and cut and half. Cut the cilantro to bite sizes. 

Cut the beef to big bite sizes. Add water, ginger, Tokyo negi, star anise, garlic, and beef into a pot and boil. While the water is boiling, remove scums and add in the other ingredients: Soy Sauce, Shaoxing Wine, and Doubanjiang. Simmer in low heat for another 30 minutes. 

Add in the tomatoes to the pot from step 2 and simmer for another 20 minutes. If there's less water, add in some water and adjust with salt and pepper. 

Remove tomato skin, star anise, Tokyo negi, ginger, and garlic from the pot. Once the beef are soft and tender, the soup is ready! 

Boil plenty of water in a separate pot. Cook the udon noodles, following the instructions in the package. Once the udon is done cooking, drain well. Place the udon in a bowl and pour in the soup from Step 4. To finish, top with bok choy and cilantro. Enjoy! 
Recipe Reviews
There are no reviews yet. Be the first one to write one.