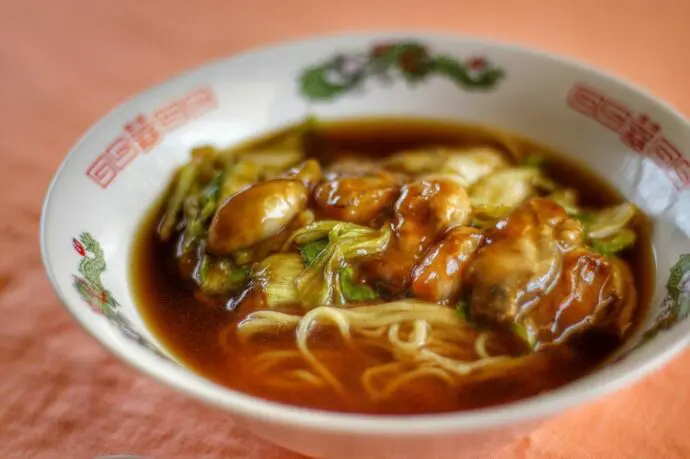 Love oysters? With this intermediate level recipe, you can challenge yourself to try something new and enhance your cooking skills! Make ramen that is not your standard ramen! Oysters are something you normally do not see in ramen. While the oyster is a unique ingredient, you will quickly learn that the savory and juicy flavor of the oysters go well with ramen! We used our Whole Wheat Noodles to pair with the oysters. 
Yields
1 serving
Cook Time
20 mins
Print
Ingredients
Ramen
1

serving

Whole Wheat Noodles
Soup
1

packet

Premium Vegetarian Shoyu Soup Base

1 ½

cups

Hot Water
Sauce for the Oyster
1

tbsp

Japanese Sake (or Dry White Wine)

2

tsp

Soy Sauce

2

tsp

Oyster Sauce (or Soy Sauce)

2

tsp

Potato Starch (or Corn Starch or Tapioca Starch)

2

tsp

Water

½

tsp

Ginger

grated
Toppings
100

g

Frozen Oyster

thawed

1

tbsp

Potato Starch (or Corn Starch or Tapioca Starch)

1

tbsp

Oil

60

g

Lettuce Leaves

torn into bite-sizes
Instructions
For the sauce, mix all the ingredients for the sauce for oyster in a small bowl and set aside. 

To prepare the oyster, place the thawed oyster in a colander and rinse with cold water. Drain well and coat the oysters in potato starch. 

To cook the oyster, heat a frying pan over medium heat until you start seeing a small whisp of smoke. Once the pan starts smoking, add oil and swirl the pan to coat surface. Add the oysters and cook until the edge is crispy and golden brown. 

Add the mixed sauce from Step 1, cook and stir until the sauce is thickened and transparent (If you are using large oysters, cover with lid and steam for about 1-2 minutes, until the inside is fully cooked).  

Turn off the heat and add lettuce leaves. Stir well, then cover with lid to cook with residual heat. Do not cook too long, or the lettuce will get soggy. 

In a large pot, boil the noodles in plenty of boiling water. 

To make the soup, boil 1 ½ cups water in a small pot and add Premium Vegetarian Shoyu Soup Base. 

Please the noodles in a bowl and top with oysters and lettuce. Pour the soup, and you are done! 
Recipe Reviews
There are no reviews yet. Be the first one to write one.