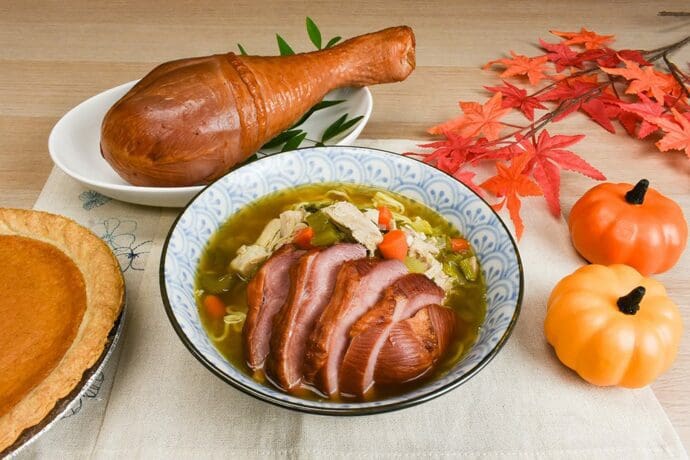 Turkey Noodle Soups are common on Thanksgiving day, as it is made with leftover turkey. For this Thanksgiving, why not make it with ramen? The salty flavor of the soup pairs well with the turkey. Try something different this Thanksgiving with our Signature Shio Ramen!
Yields
1 serving
Cook Time
30 mins
Print
Ingredients
Ramen
1

serving

Signature Shio Ramen
Soup
1

packet

Signature Shio Ramen Soup Base

1 ¼

cups

Water
Toppings
100

g

Roasted Turkey (For Soup)

1

Celery and Celery Leave

¼

Carrot

¼

Onion

3-5

Roasted Turkey Slices (For Topping)

Salt and Pepper

by preference
Instructions
Cut the roasted turkey, celery, celery leaves, carrots, and onions to bite sizes.

Pour the soup base and water into a pot. Add in the turkey and vegetables from Step 1, cooking for 20 minutes. Sprinkle in a dash of salt and pepper to taste and the turkey soup is ready!

Follow the package instructions to cook the noodles. Once the noodles are cooked, rinse and drain the noodles. Place the noodles in a bowl.

Pour in the soup from Step 2 to the bowl from Step 3 and top the noodles with sliced turkey. Enjoy!
Recipe Reviews
There are no reviews yet. Be the first one to write one.